Imagine standing in awe before the majestic Arenal Volcano, one of Costa Rica's most iconic natural wonders. Surrounded by lush rainforests, soothing hot springs, and diverse trails, Volcano Arenal National Park offers an unforgettable experience for adventure seekers and nature lovers alike. Get ready to embark on a journey through this tropical paradise, where you'll hike through lava fields, soak in geothermal waters, and savor the local flavors of La Fortuna.
This is one of my favorite places in Costa Rica for a lot of reasons.  Being in the center of the country, most people overlook this hidden gem.  Today I'll hopefully convince you that this area is a MUST VISIT if you are planning a trip to Costa Rica.
Make sure to read my Costa Rica travel guide for an overview of how to navigate the country and make the most out of your trip to paradise!
Key Takeaways
Discover Arenal Volcano National Park, an unmissable destination in Costa Rica full of natural beauty and adventure!
Experience the breathtaking beauty of Arenal with its majestic views, diverse wildlife & biodiversity, hot springs and thrilling activities like canopy tours & white-water rafting!
Plan your visit to experience the best that Arenal has to offer, from pura vida dining options to luxurious accommodations for ultimate relaxation.
Discovering Arenal Volcano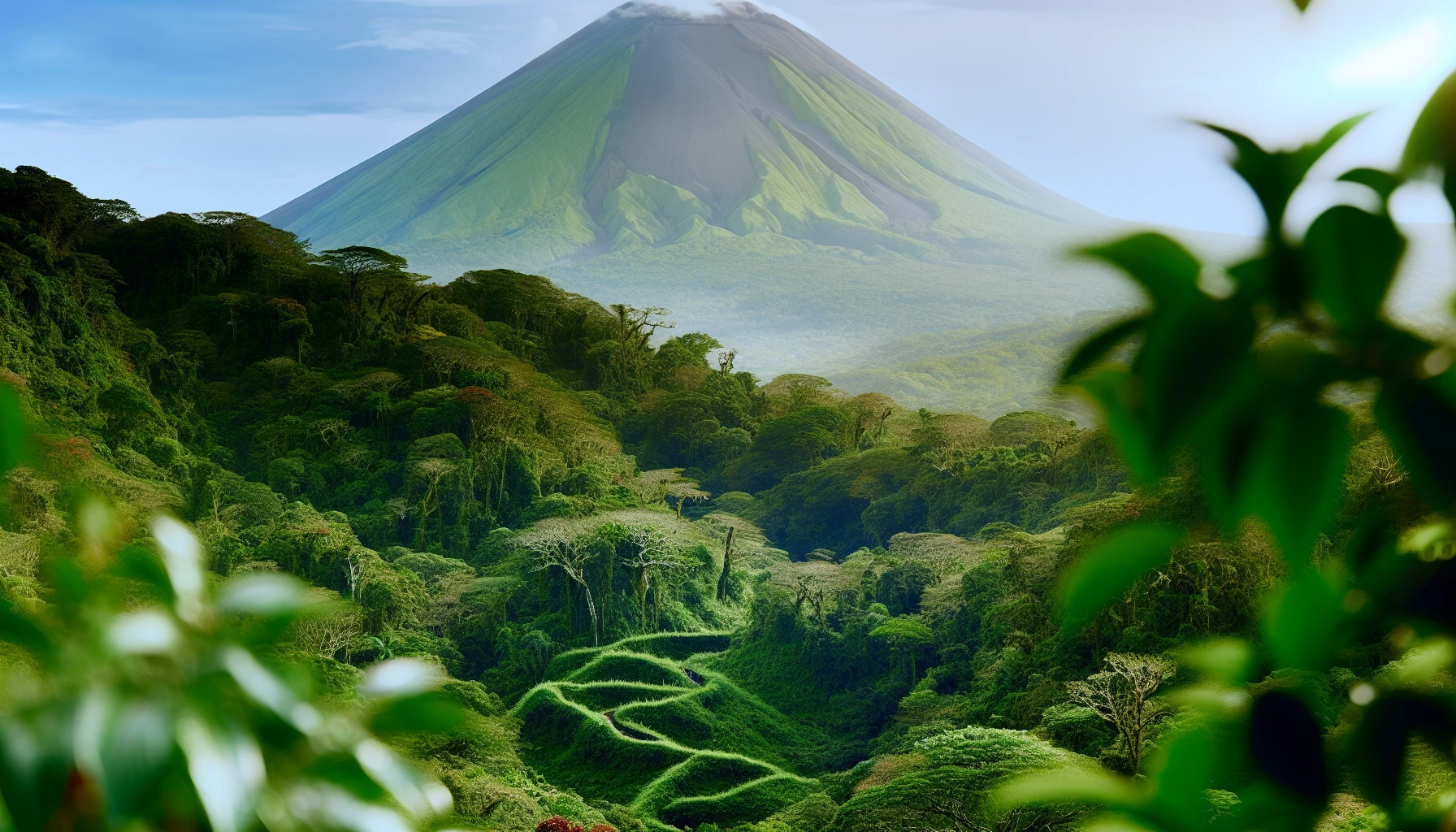 Arenal Volcano National Park is home to the awe-inspiring Arenal Volcano, an active volcano that towers over the town of La Fortuna. This spectacular park offers a range of features, including:
Almost 30,000 acres of land
Hiking trails that allow visitors to explore the surrounding rainforest
Lava flows to observe
Breathtaking viewpoints
Nearby, you'll find:
The human-made Lake Arenal, formed by lava flows from the volcano
The stunning 200-foot La Fortuna Waterfall
Arenal Volcano National Park, brimming with natural beauty and adventure
Arenal Volcano National Park stands as an unmissable destination in Costa Rica.
The Majesty of Arenal
Standing at a staggering 5,357 feet (1,633 meters) tall, Arenal Volcano is the most popular tourist attraction in Costa Rica. Formed in 1979 for hydroelectric and irrigation purposes, this majestic volcano is surrounded by the Arenal Tilaran Conservation Area. Travelers, including photographers, geologists, and locals, visit Arenal in hopes of witnessing the volcano's activity and experiencing its unique ecosystem.
While exploring the park, you'll have the chance to spot a variety of wildlife, such as jaguars, deer, monkeys, and capuchin monkeys. The park is a paradise for flora enthusiasts with its various species of orchids, heliconia, ferns, laurel, palms, and bromeliads. It is truly a botanist's dream come true. Arenal Volcano National Park serves as a rich reserve of biodiversity, where each turn uncovers new and intriguing wonders.
Related:  What to Pack for a trip to Costa Rica
Volcanic Activity Through the Years
Before 1968, Arenal Volcano was thought to be dormant. However, a significant eruption that year proved otherwise, causing destruction to several villages and claiming the lives of 87 people. The 1968 eruption marked a turning point for Arenal, and since then, it has displayed varying levels of activity.
While the volcano is currently not erupting, it continues to emit steam and occasional deep rumbles. Arenal Volcano, being one of the most active volcanoes worldwide, adds a sense of thrill and charm to the visitor experience.
Viewing Points and Photo Opportunities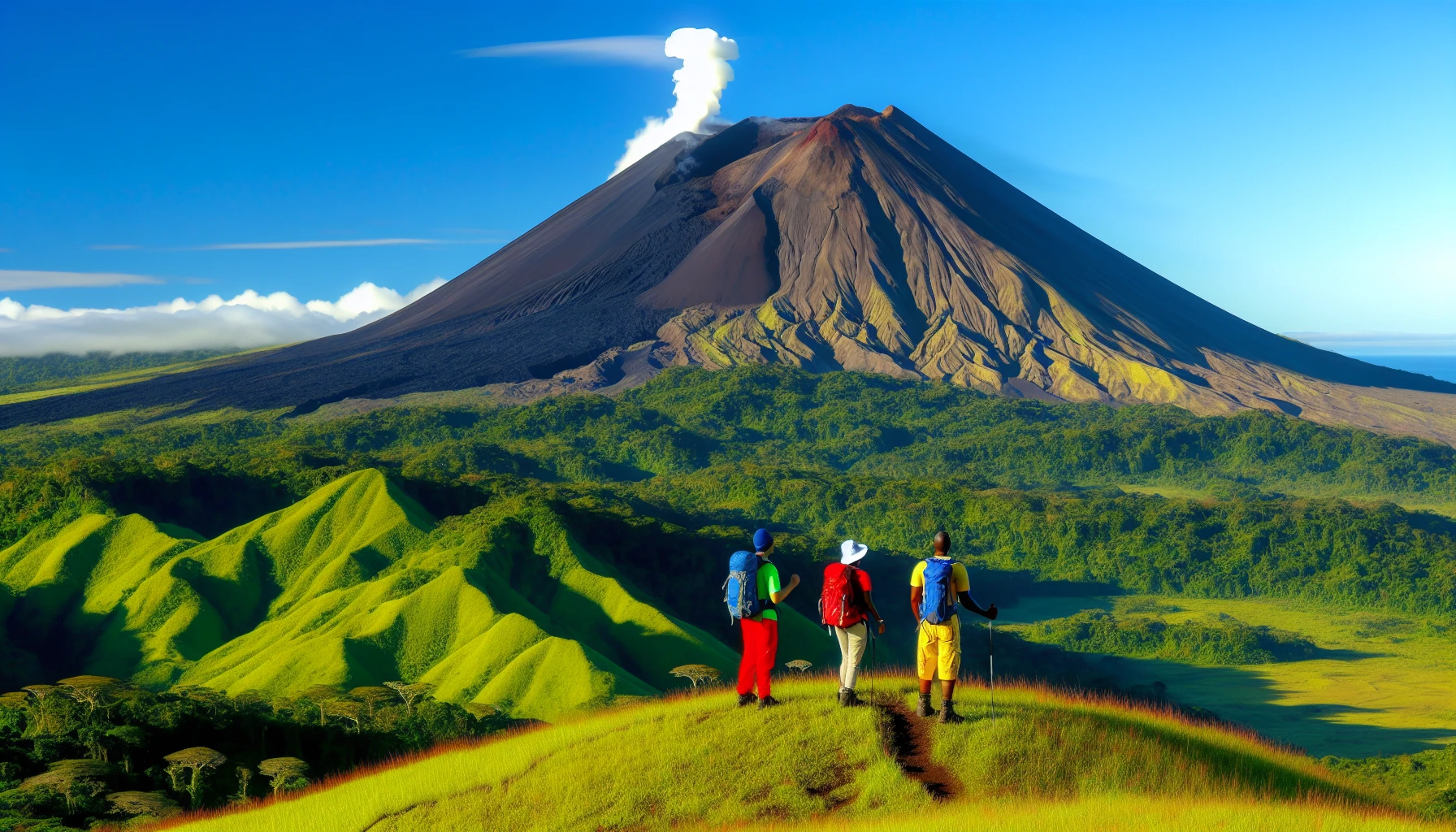 Capturing the perfect shot of Arenal Volcano and its surroundings is a top priority for many visitors. Numerous viewpoints and photo spots exist around the volcano, offering stunning panoramas of the landscape. One such spot is La Fortuna Waterfall, which can be accessed by walking or horseback riding. As you hike to the waterfall, keep an eye out for wildlife, such as monkeys, toucans, and sloths.
No matter where you choose to snap your photos, the majestic beauty of Arenal Volcano and its lush rainforest backdrop will leave you with memories to last a lifetime.
My personal favorite destination to stay and get amazing photos is The Springs Resort & Spa.
Navigating the Trails of Arenal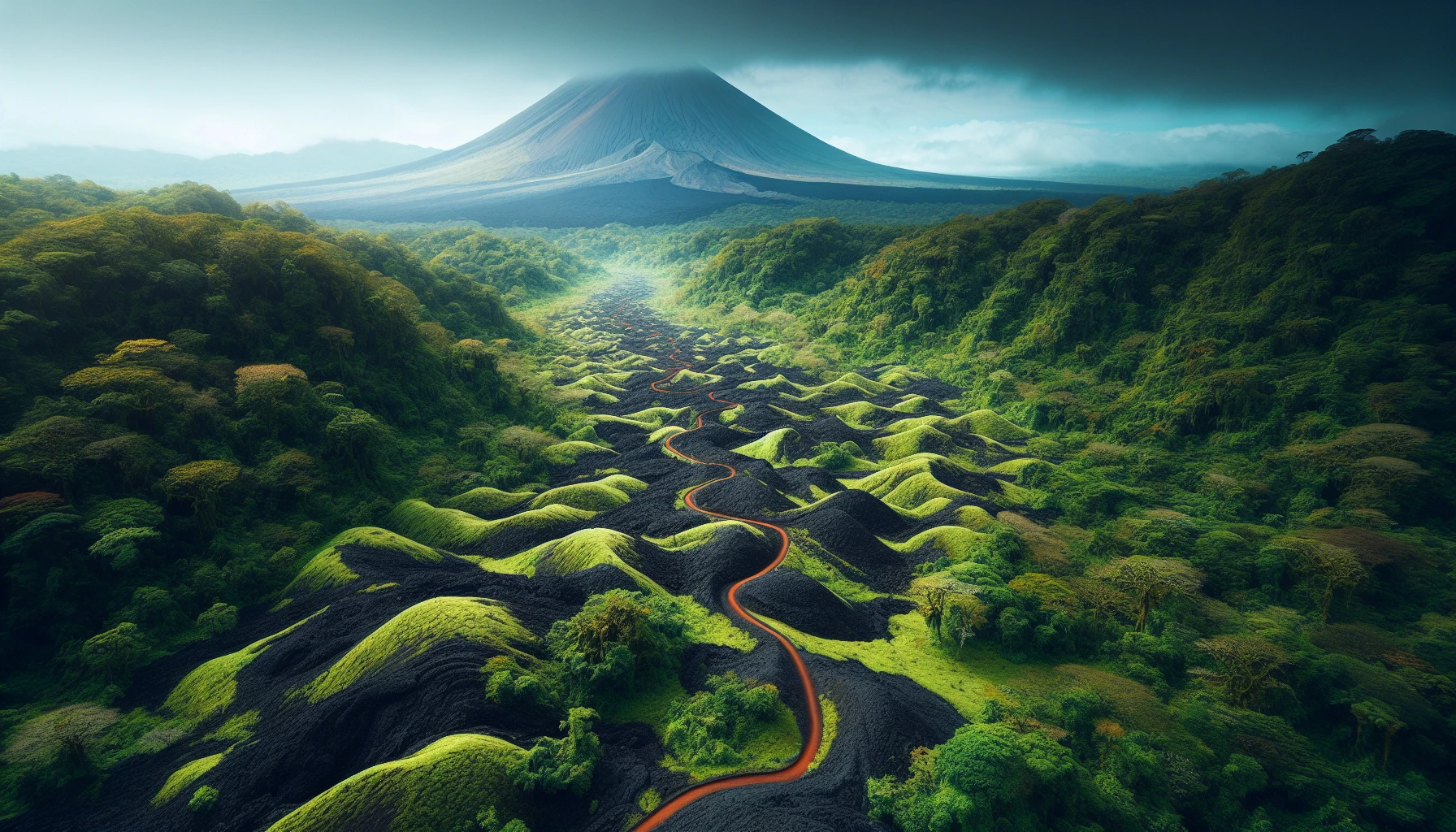 Arenal Volcano National Park's diverse trails offer unique views and opportunities to explore the rainforest and lava fields in Arenal National Park. From easy walks to more challenging treks, each trail showcases the park's natural beauty and geological wonders.
Whether you choose to join a guided tour or venture alone, traversing the trails of Arenal promises an unforgettable experience.
A Pathway Through Nature
Arenal Volcano National Park features several hiking trails, ranging from 2 km to 3.4 km. Visitors can explore the forest and lava fields from past eruptions via these short trails. These trails lead visitors on an insightful voyage through the park. One of the most popular trails in the park is the Arenal Volcano Trail, a 2-mile easy-rated excursion through the jungle along Mount Arenal. As you hike, you'll encounter solidified lava and local flora and fauna, creating an immersive experience of the park's diverse ecosystem.
The Arenal Observatory Lodge offers an excellent vantage point for observing the volcano and its surroundings. For the best visibility, plan your hike early in the morning before clouds roll in. No matter which trail you select, trekking across the remarkable landscape of Arenal Volcano National Park promises a memorable adventure.
Guided Tours vs. Solo Adventures
Deciding between a guided tour and a solo adventure depends on your personal preferences and what you hope to gain from your visit to Arenal Volcano National Park.
Guided tours offer:
Detailed information about the park's history and ecological features
Knowledgeable local guides
A support system in case you encounter any unforeseen challenges
On the other hand, solo adventures in Arenal Volcano National Park provide the freedom to explore at your own pace and create a more intimate and personal experience. You'll have the flexibility to choose your path and determine how much time you want to spend on each trail.
Whichever option you choose, both guided tours and solo adventures offer an exciting and memorable way to experience the wonders of Arenal Volcano National Park.
Thermal Bliss at Arenal's Hot Springs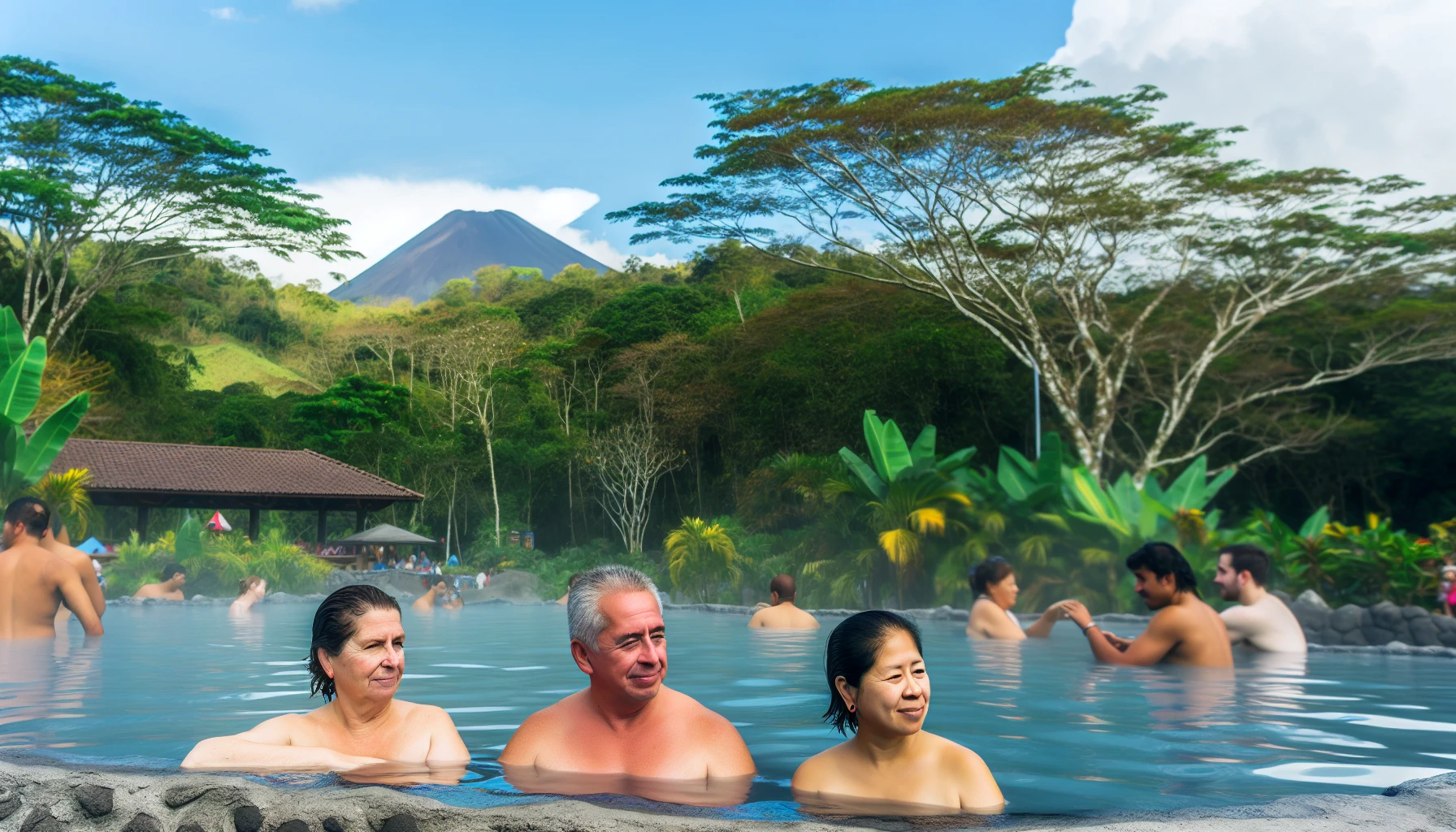 Following a day of exploration in Arenal Volcano National Park, immersing in the relaxing hot springs of Arenal serves as the perfect respite. Heated by the volcano's geothermal activity, these natural pools offer a unique and relaxing experience unlike any other. From the luxurious Tabacon Hot Springs to more budget-friendly alternatives, you'll find the perfect spot to immerse yourself in the warm waters and let your worries melt away.
The Healing Waters of Tabacon
Tabacon Hot Springs is a luxurious oasis, featuring natural pools, waterfalls, and rejuvenating spa treatments. The tranquil atmosphere, combined with the luscious garden paths and soothing sound of waterfalls, creates a truly magical experience.
As you soak in the mineral-rich waters, you can also enjoy the numerous health benefits associated with bathing in hot springs, such as improved stress levels, dermatological conditions, and circulation problems. Tabacon Hot Springs is an indulgent retreat that will leave you feeling refreshed and revitalized.
Exploring Alternative Hot Springs
If you're looking for alternative hot springs in the Arenal area, there are several options to choose from, each offering a unique experience. Some of the options include:
Titokú Hot Springs
Rio Agua Caliente
La Lagunas
Perdido
Club Rio hot springs
For those seeking a more budget-friendly option, Termalitas del Arenal and Termo Arenal Hot Springs provide a more affordable experience without sacrificing the soothing ambiance.
Whichever hot spring you opt for, it will undoubtedly provide a serene sanctuary for relaxation and rejuvenation after a day filled with adventure.
Adventure Activities Around Arenal Volcano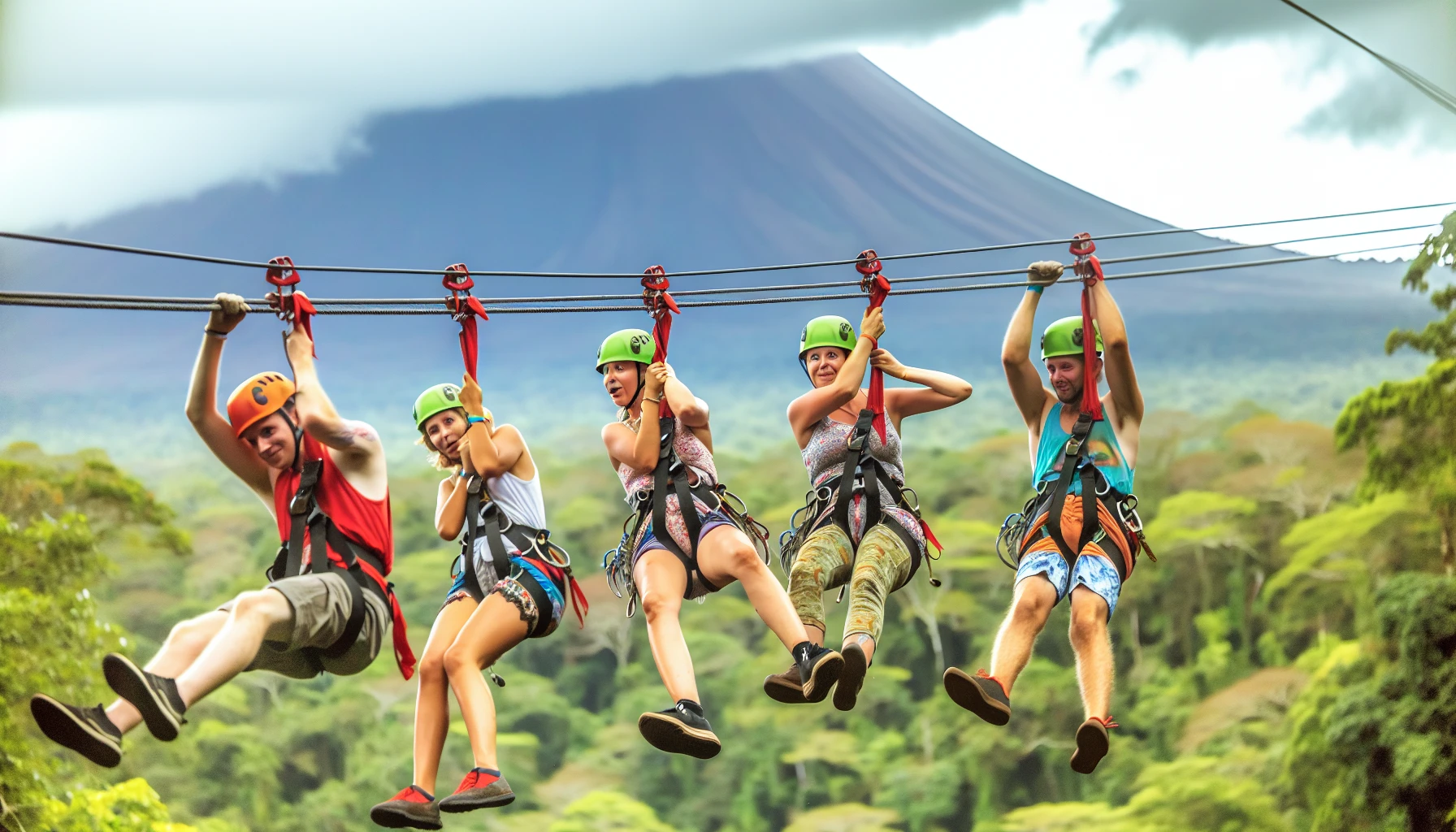 Beyond the park's trails and hot springs, Arenal Volcano also presents an array of exciting activities for thrill-seekers. From soaring through the rainforest on canopy tours and zip-lining to navigating raging rivers on white-water rafting expeditions, there are countless ways to experience the excitement and beauty of Arenal Volcano and its surroundings.
Canopy Tours and Zip-Lining
Canopy tours and zip-lining adventures provide an exhilarating way to experience the rainforest and breathtaking views of Arenal Volcano. Here's what you can expect:
Ascend on an aerial tram to the top of an observation point overlooking Lake Arenal.
Set off on one of the highest and fastest ziplines in Costa Rica.
Glide through the treetops and enjoy spectacular views of the volcano and lush Costa Rican jungle.
Safety remains a paramount concern during these adventures, hence the importance of adhering to all guidelines and instructions given by professional guides. Here are some tips to ensure a safe and enjoyable zip-lining experience:
Wear long pants or shorts and comfortable shoes.
Use sunscreen and insect repellent.
Choose a reputable canopy tour operator, such as Sky Adventures, Arenal Mundo, Pure Trek, or Eco Glide, that prioritizes safety and has experienced guides.
Follow all instructions and guidelines provided by the tour operator.
Assess your own skill level and choose a zip-lining experience that is suitable for you.
With a variety of canopy tour operators in the Arenal area, you're sure to find the perfect zip-lining experience for your skill level and sense of adventure.
White-water Rafting on Raging Rivers
For a heart-pumping adventure on the water, look no further than white-water rafting on the rivers near Arenal Volcano. The Toro, Balsa, and Peñas Blancas rivers offer varying levels of difficulty, ranging from exciting level 2 to challenging level 4 rapids. Professional instructors and guides will ensure your safety while navigating the rapids, surrounded by the lush scenery of the Arenal area.
Prior to setting out on your white-water rafting adventure, ensure to abide by all safety guidelines and instructions from the rafting company. Wear appropriate footwear, follow the guide's instructions, and use the provided rafting equipment correctly. As you paddle through the rapids, you'll be immersed in the incredible beauty of the Arenal region, making for an unforgettable adventure.
Accommodations with a View: Where to Stay Near Arenal
After a day of exploring Arenal Volcano National Park, you'll need a comfortable place to rest and recharge. The Arenal area caters to every traveler's needs with a range of accommodations, from eco-friendly lodges to plush resorts and spas. With stunning views of the volcano and its lush surroundings, these accommodations provide the perfect base for your Arenal adventure.
Eco-Lodges and Sustainable Stays
Eco-lodges near Arenal Volcano prioritize environmental conservation while offering comfortable accommodations and stunning views. Some top-rated eco-lodges in the area include:
Origins
Hacienda AltaGracia
Pacuare Lodge
Cielo Lodge
Tabacón Thermal Resort & Spa
These lodges adopt sustainability practices like utilizing renewable energy sources, saving water, and aiding local communities.
In addition to their environmental efforts, eco-lodges provide a range of amenities to ensure a comfortable and enjoyable stay. From organic and locally sourced food options to outdoor activities and guided tours, eco-lodges seamlessly blend luxury with sustainability.
By choosing an eco-lodge, you'll be supporting the local environment and community while enjoying a unique and memorable stay near Arenal Volcano.
Resorts and Spas for Ultimate Relaxation
If you prefer a more indulgent stay near Arenal Volcano, luxurious resorts and spas offer top-notch amenities and relaxation opportunities. Some of the top-rated resorts and spas in the area include:
Tabacon Thermal Resort & Spa
The Royal Corin Thermal Water Spa & Resort
Lost Iguana Resort & Spa
Nayara Springs
Often featuring natural hot springs, diverse dining options, and comprehensive spas, these Arenal hotels, resorts, and spas deliver the pinnacle of relaxation following a day of exploration in Arenal Volcano National Park. With stunning views of the volcano and surrounding rainforest, these accommodations provide an unforgettable retreat that combines comfort, luxury, and the beauty of nature.
Savoring Local Flavors: Dining in the Arenal Volcano Area
The Arenal Volcano area presents a wide array of dining options, including:
Traditional Costa Rican cuisine
International dishes with a tropical spin
Authentic meals at local eateries
Fine dining experiences at resort restaurants
Whether you're craving a local favorite or a gourmet meal, you'll find an abundance of delicious flavors to savor during your visit to Arenal.
Traditional Eats and Pura Vida Dining
Savor the flavors of Costa Rica with traditional meals and pura vida dining at local restaurants and eateries around Arenal. Enjoy authentic dishes like Gallo Pinto, Casado, and Costa Rican Tamales, made with fresh, locally sourced ingredients. Some of the best local restaurants for traditional Costa Rican food include Mercadito Arenal, La Parada, and Don Rufino.
Pura vida dining refers to the relaxed and laid-back atmosphere of Costa Rican cuisine, often accompanied by refreshing cocktails and friendly service. With a focus on fresh ingredients and flavorful dishes, pura vida dining offers a unique and enjoyable culinary experience that reflects the spirit of Costa Rica.
International Cuisine with a Tropical Twist
If you're craving international flavors during your visit to Arenal, you'll find a variety of restaurants serving dishes with a tropical twist. Sample Italian, Mexican, American, or Asian cuisine, all infused with the vibrant flavors of Costa Rican produce. Popular international restaurants near Arenal Volcano include Mercadito Arenal, which offers global cuisine options like ceviche and pad thai, as well as other eateries in La Fortuna.
The international cuisine in the Arenal area, by integrating local ingredients like root vegetables, coconut milk, and oil, mirrors the region's natural richness. The fusion of Costa Rican flavors with international cuisine creates a unique and flavorful dining experience that you won't soon forget.
Planning Your Visit: Arenal Volcano Travel Tips
Planning your visit to Arenal Volcano is key to ensuring an optimal experience. Here are some factors to consider:
Optimal time to visit
Average temperatures
Rainfall patterns
Apt clothing
With a little preparation and research, you'll be well on your way to an unforgettable adventure in Arenal Volcano National Park.
Best Time to Witness Arenal's Splendor
The ideal time to visit Arenal Volcano is during Costa Rica's dry season, which runs from December to April. This is when you can expect better weather and clearer views of the surrounding nature. However, bear in mind that visibility can fluctuate daily and even hourly during the dry season, so regularly checking local weather forecasts and planning accordingly is advised.
Even though the dry season is the peak tourist season, Arenal Volcano National Park offers incredible experiences year-round. Activities such as:
hot springs
hiking trails
canyoning
horseback riding
can be enjoyed throughout the year, so no matter when you choose to visit, you're sure to have an amazing time.
Packing Essentials for Arenal Adventures
When packing for your Arenal adventure, there are several essential items to consider:
Light, breathable clothing such as shorts, long pants, and long-sleeve shirts
A cap with a brim to protect yourself from the sun
Comfortable shoes, such as running shoes or hiking shoes, for navigating the park's trails
Apart from clothing, packing the following items for your trip to Costa Rica is important:
Lightweight jacket or rain poncho for protection against rain and humidity
Small towel
Bug spray
Water shoes
Poncho
Hiking boots and socks
Sports bra
Baseball hat
Sunscreen
Hat
With these essentials in hand, you'll be well-prepared for an unforgettable Arenal adventure.
Summary
Arenal Volcano National Park offers a wealth of experiences for adventure seekers and nature lovers alike. From hiking the diverse trails of the park and soaking in soothing hot springs to savoring the local flavors and staying in eco-friendly lodges or luxurious resorts, there's something for everyone in this tropical paradise. So pack your bags, plan your visit, and get ready to embark on an unforgettable journey through the breathtaking beauty of Arenal Volcano National Park.
Frequently Asked Questions
Is Arenal Volcano National Park worth it?
Visiting Arenal Volcano National Park offers a beautiful sight and plenty of activities in La Fortuna. However, it's not a must-have experience when visiting Costa Rica.
How much does it cost to go to Arenal Volcano?
It costs $15 + tax USD for adult foreigners and $5 USD + tax for children to enter the Arenal Volcano National Park, open daily from 8 AM to 4 PM. Last entry is at 4 PM.
Is Arenal Volcano still erupting?
The Arenal Volcano in Costa Rica is still considered active, but there hasn't been an eruption since 2010. Scientists assure us that the volcano is still alive and sleeping, so visitors can no longer see lava flowing down its sides or plumes of ash rising from its top. Its eruption from 1968 to 2010 was the tenth longest duration volcanic eruption since 1750!
How many people died in the volcan arenal eruption?
87 lives were tragically lost in the 1968 Arenal Volcano eruption, with three villages – Tabacón, Pueblo Nuevo and San Lus – caught in its destructive path. It left a lasting impact on the region, with 232 square kilometres of land and herds of cattle destroyed.
What is the best time to visit Arenal Volcano?
Experience the best of Arenal Volcano during Costa Rica's dry season, from December to April – when you can expect better weather and stunning views of the nature!